If you're into skiing, you might have had heard those names before. They might sound confusing at first but as you learn more about them, you'll get the hang of it. Knowing your ability and skiing style will help you choose the best ski for yourself.
Backcountry skiing
Backcountry skiers are skiers who want to find their own road (untracked wilderness terrain, powder and groomed runs). They don't use ski lifts and hike up the hill or venture into areas not maintained by ski resorts as known as off-piste. Backcountry skiers usually carry avalanche safety equipment since there is avalanche risk, the slopes are so steep and no ski patrol in the backcountry.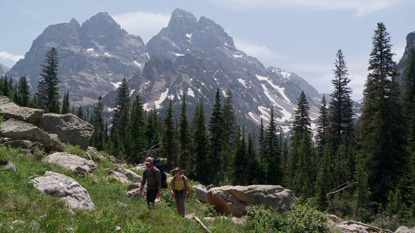 Countryside skis are lighter than alpine gear to make it easier to climb up (sometimes backcountry skis are also used for randonee skiing, it depends on the skiing style). The ski's waist width is of approx. 80 to 120 mm. They use narrower waists when skiing hard snow and wider ones when skiing in powder.
Skis that backcountry skiers use in deep powder conditions are significantly wider than those traditional alpine skis so that backcountry skiers can flow over the snow.
Side country skiing
Side country skiing or some people may call it slack country skiing. Side country skiers are those who primarily ski in areas maintained by ski resorts but occasionally venture into the backcountry areas which ski patrol opens up to the public. They use ski lifts to hike up mountain then use a combination of booting, skinning, and traversing to access their line.
Side country skiers are now required to carry avalanche gear when leaving the resort, since there is always risk when the sign says open. For example, they are required to be equipped with beacon, shovel, and probe; and they also have to be accompanied by a partner.
Ski randonee or Alpine ski touring (AT)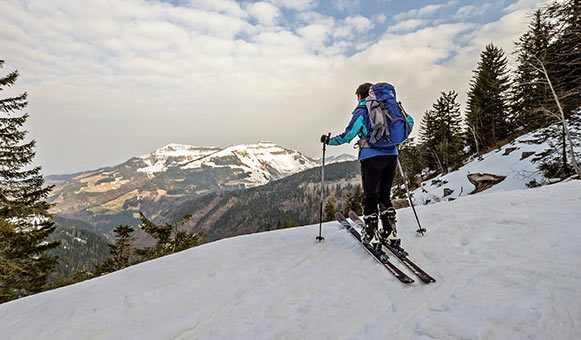 Ski randonee or Alpine skiing is the most common type of skiing. Alpine skiers slide down the snow-covered and steep hills (groomed Pistes) using sleek and strong skis. Alpine skiing is originated from cross-country skiing, a combination of cross-country skiing and downhill skiing; it's famous in Europe and the US.
Control (in speed and direction) is the most important thing when it comes to alpine skiing. The steeper the slopes are, the more control is required. Alpine skiing is suitable for advanced to race levels.
The skis that alpine skiers use are designed for easy turning, they are precise, fast and excellent for groomed Pistes. They use wide alpine skis and a convertible binding which can be locked down when skiing downhill and released when climbing up slopes. Both the heel and the toe of the ski boot are firmly secured to the ski.
Alpine skis can have a wide range of waist widths and are extremely lightweight.
Based on your level (a beginner, an intermediate skier an advanced intermediates skier, an advanced skier or an expert skier), choose the most suitable skiing style so you can both have fun and be safe. Good luck on your journey.